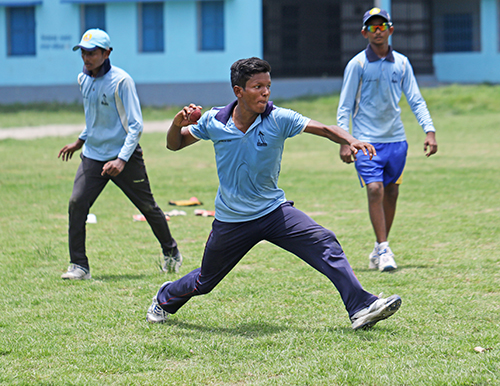 The cricket injuries are more than the common occurrence. These may not strike you as the most serious types of injuries. But you can't imagine how serious they might be.  The fast bowlers,  especially the trainees, are more susceptible to multiple types of injuries that may result in long discontinuation.
The injury is inevitable for every sport. The bowlers can minimize the possibilities of suffering by following the code of training and putting on the sportswear specially designed for the purpose. This will protect them from being injured out of fast delivery of the ball.
If you are one of the fast bowlers,  you can significantly minimize the probabilities of having to deal with any of the particular injuries on a daily basis by going through the advice of the professional cricketers, orthopedic surgeons, and physiotherapists who dedicate themselves in fixing the sporting injuries.
Patellar Tendonitis:  
When it is overstressed this condition results in. The patella tendon is under the stress when the bowler is made to do continuous delivery. This is the frequent problem with the fast bowlers throughout the world.  The pain related to this injury is brought about by the disintegration of fibers in the tendon similar to any types of tendonitis. It is quite unlikely to cure it without a period of absolute rest and avoid over training.
Torn Ligaments
Another type of injury that very commonly occurs in the knee area is tearing of a ligament which is the result of extreme stress laid on them during the sudden change of direction, twisting motions, and frequent impacts. The impact is felt in the knee of the landing leg during the delivery of the fastball,  which is equal to ten times your body weight. So, it is very simple to understand the reasons for tearing the ligament frequently.
Lumbar Spine Injuries
It is the back with a lower spine that is the most problematic part next to the knees especially for the fast bowlers. It is highly vulnerable to fractures for stress.  Again, this is due to the impact of the force that is caused by the action of bowling. It can be lessened with inserts that act as protection, together with the set of training rules that are planned to intensify the other areas of the body to reinforce the back.
Every injury is unique with specific players. For advice about training schedules and injury healing, the only persons that can help you are the coach and any authorized sports injury medical professional as well as professional cricketers and physiotherapists.