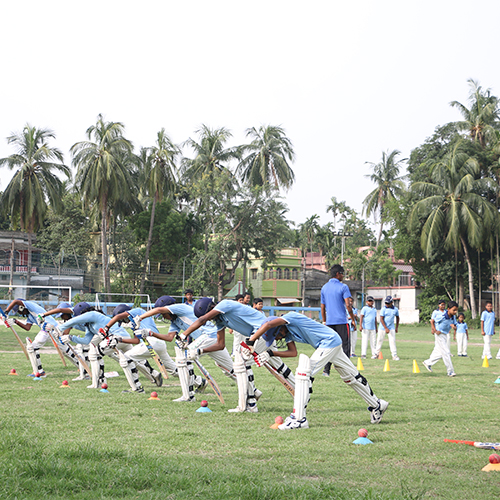 What's the right cricket academy for cricket training is now very difficult to choose. These academies have turned into chosen hotspots for the young stars as well as the professionals. The people are getting more and more conscious about their health and they are inclined to different sports.  It is the cricket craze of Indians that has transformed the  cricket as popular as  a national game. There is hardly any sport academy which doesn't arrange cricket training to help the cricket sports.
Rather than going on any of the cricket  academy for getting fruitful cricket training, consider the following points.  
The training camp must have its skilled coach and trainers
Considering for the coach and the trainer is the most important thing to survey whenever you want to choose a cricket training camp.  An efficient cricket trainer not only boosts your playing skills, but also helps in developing the full capability the players. They keep on careful eyes on each and every performance of the players.  Depending on the observation, they instruct them to exert effort in order to perform their relevant skills. It's not all, they also motivate the players to perform greatly.
The training camps should be well outfitted and keeping up facilities
Only the skilled and dedicated coaching staff is not enough for a reputed  cricket academy. It must be well equipped with the best training outfits. Some of the essential things for cricket training academy are: flood light, speed checker radar, bowling analysis video, gymnasium and fitness zone, and  transporting facilities. Besides, the equipment and other things must be maintained in order that they are always in good condition.
The training camp should have available nutritionists, dietitians and physiotherapists
Right nutrition is indispensable for the best possible performance. So consumption  of good nutrition in right amount of fluids, calories and carbohydrates is very much essential for the players during their cricket training  and also after the training. Only a professional nutritionist knows it well how to design a complete diet chart for a sport person.
A good nutrition always keeps up stamina of the players. Aside  from a dietitian, a good cricket academy needs to appoint skilled physiotherapist who can take care of any injuries, like cramps etc. during or after the training.
So, whenever you go out for searching a cricket academy for cricket training, remember the above mentioned points.