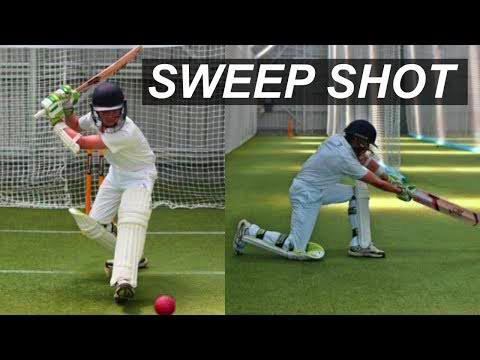 Cricket batting is about the act of hitting bowl with a bat, scoring as much as possible run without losing wicket. Here, the batsman hit a ball, takes run and always tries to prevent wicket. The main concern is not to lose wicket and scores maximum runs as early as possible. There are different shots in cricket. Such as, front foot shot, back foot shot, etc. Here we are going to discuss about Sweep Shot.
Introducing Sweep Shot
The sweep shot is excellent if it is used properly. In 1970, sweep shots was first regularly played by Mushtaq Mohammad, the Pakistani batsman. But, according to some sources Hanif Mohammad, brother of Mushtaq Mohammad is acknowledged as the inventor. Renowned cricket coach Bob Woolmer played a significant role to popularize this particular stroke.
About Sweep Shot
Sweep shot is an efficient and popular shot in cricket. It is very much effective to counter spin bowling. The batsman sweeps the ball around his leg-side. He kneels on one of his one leg and typically sweeps towards fine leg or square leg. It usually hits on spinners in order to rotate the strike. Generally, it is recommended not to attempt sweeping a full straight delivery on the stumps.
How to master Sweep Shot
Preparation
At first, remember that sweep shot is an advanced shot. So, you should be aware enough of the basics of batting before playing sweep shot.
Understand the bowler: it is one of the significant points is to understand the bowler. Because, a spinner can change the variation of his ball even at the last moment before delivery. S, it is necessary to understand properly the variation and spin of the ball may take after bouncing.
Practice a lot: It is essential to practice enough to play sweep shot. Practice this shot regularly for more than an hour to perform better this shot.
Steps to play Sweep Shot
Transfer the body weight on your front foot just after the ball is delivered.
keep your eyes on the ball
Bend your front foot knee when you are stretching
keenly watch the ball. Because, you need more concentration to understand what type of ball you are going to hit.
Bend your front knee completely and bend your back-foot knee touch the ground.
Swing your bat to make a sweep shot.
Variations of Sweep Shot
There are four types of variations of this particular stroke. Such as,
Defensive Sweep
Reverse Sweep
Fine Sweep
Slog Sweep
Remember that to play efficiently it is important to watch the ball from the point of delivery. besides, practice more and more to perform the best.